Emulsion Mist Separator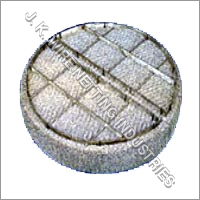 Emulsion Mist Separator
Price And Quantity
1

Square Foot/Square Foots
Product Description
Relying on our sound R & D lab, we are considered to be one of the most inventive manufacturers and exporters of Emulsion Mist Separator in the worldwide market. We are offering these separators in the market in different specifications. Ensures the necessary safety at work, these separators are suitable for oils and emulsions. Considering the different requirements of customers, we can also customize the Emulsion Mist Separator as per their specifications.
Features
Easy to handle
Requires low maintenance
Sturdy design

Further DetailsOil and Emulsion Mist Separators:
In the metal working industry and manufacturing factories during the cutting and processing of metals and goods a lot of smoke, mists, dust is emitted due to the use of cooling lubricants. Cooling lubricants are generally made of water, mineral oil and variant types of synthetic additives like biocides, anti corrosive and emulsifying agents. The smoke and gas presented from this can be harmful and in order to ensure safety at workplace these Oil and Emulsion Mist Separators are used to separate the harmful substances.
Wire wool sleeves-
Earlier times perforated tubes were wrapped with stainless steel wool for protecting the fibre absorption material pack but as an alternative we provide a flat packed one piece needled tube, which can be easily placed over the perforated pipe or tube.
Air gap or twin wall pipes:
These 'twin wall pipes or 'Air gap pipes' are mainly used for the fabrication of downpipes.
Insulation is provided to the gamut through air gap between inner and outer pipes. It decreases the heat loss from the exhaust gas faster than the catalytic converter. And, so, this helps in improving its efficiency. These knitted wire mesh space ringers and cushion pipes are placed in between the inner and outer pipe, respectively. This works as a bearing surface in maintaining a constant gap in thermal expansion.